Looking for a way to change up your watch band? I saw this super cute idea at a craft fair, and decided to copy it with my own tired watch strap. It's simple and doesn't take much time, not to mention the materials needed (safety pins and beads) can be easily purchased for under $5.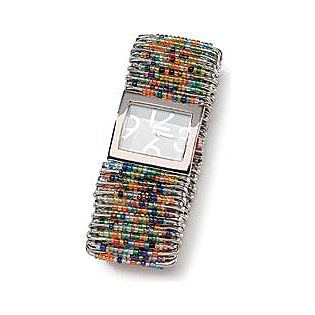 You'd never know how simple this is to put together!
Check out the tutorial after the jump!
Materials: Old Watch Face, Safety Pins, Beads, Elastic string
String your beads on to the safety pins. You need about 60 depending on the size of your wrist
String the safety pins onto two lengths of elastic alternating the fat end at the top and bottom so they will lie flat
Tie the two lengths together at the back of the watch
Wear and enjoy!