So, with Father's Day coming up on Sunday, I though I would post a breakfast recipe since breakfast in bed is a Father's Day must.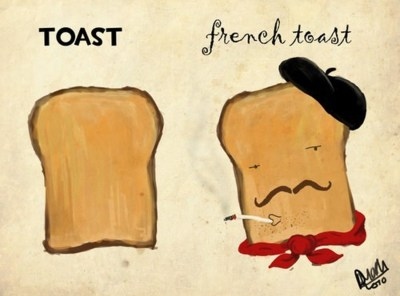 Just because the kids are in the kitchen doesn't mean Dad should have to choke down scrambled eggs with shells mashed into them. This French Toast recipe is easy enough for the kids, and fancy enough for a special occasion.
Recipe:
2 eggs
2 oranges (zest and juice)
1 Tbs orange marmalade (optional)
1/2 cup whole milk
1 Tbs cinnamon
1 Tbs butter
5 Slices of bread (or less if you've got thick bread)
Mix the eggs, orange juice, orange zest, marmalade, milk and cinnamon together in a shallow bowl. Heat a frying pan to medium high heat and melt the butter. Soak the bread in the egg mixture on both sides until completely saturated. Then fry on 1 side for 2 minutes or until it begins to brown. Repeat on the other side until the bread is spongy. Transfer to a plate and serve with maple syrup or powdered sugar.